Kansas City's on-demand transit service, IRIS, recently expanded to cover the entirety of the city.
IRIS is a service that allows passengers to request to be picked up and dropped off, similar to Uber or Lyft, either through a smartphone app or by calling. But unlike other rideshare apps, IRIS does not pick up and drop off passengers directly at desired locations, only at predetermined stops.
It originally covered just the Northland, with the intention of adding more transportation options in neighborhoods with few bus routes. As of July, it's now available south of the river.
"This is the direction that transit is moving in. This is the future of city-wide transit across the globe," says assistant city manager Melissa Kozakiewicz, who helped launch the program.
IRIS stands out as one of the largest on-demand public transit services, or microtransit, in the country.
"What's unique about IRIS is this is the first one that I know of that is covering a city, the whole city, of this size," says Tyler Means, chief mobility officer for the Kansas City Area Transportation Authority (KCATA).
However, there are rising concerns about the efficiency of these on-demand services, even as they grow in popularity. And some Kansas City residents worry that IRIS is pulling attention and funding away from mass transit.
Filling gaps or making gaps?
KCATA launched IRIS as a way to fill the gaps in the city's public transportation systems. Even though bus fare is currently free in Kansas City, only 13% of low-income households are near a transit route.
Just five bus routes serviced Northland neighborhoods, compared to 26 south of the river.
With IRIS, rides to the nearest transfer points — places where people can hop on a bus or streetcar — are free. "It allows people to have first mile, last mile service, actually makes our bus service more efficient, and is very responsive to the needs of our constituents," said Frank White III, CEO of the KCATA, in March.
IRIS charges $3 for travel within a zone and $4 for travel to a different zone. The zones are marked by different colors on the map. It also costs $5 for travel to entertainment destinations such as downtown or Worlds of Fun, and $10 to the airport.
However, there are some concerns that IRIS could result in less access to public transportation, not more. KCATA announced recently that it's ending the Gladstone-Antioch Flex route, and all other bus stops in Gladstone will be discontinued beginning September 1.
According to a statement released by the city of Gladstone, its contract with the KCATA nearly quadrupled in price — increasing from about $87,000 to $340,000 per year for bus, flex and paratransit services.
The KCATA says that Kansas City used to fund the bulk of the costs for bus services through Gladstone — now it and all other adjacent cities must pay the whole price tag.
"Our budget simply does not allow that kind of increase," says Gladstone Mayor Jean Moore. "We can't continue to provide the other services that we need to provide to our residents and pay that kind of money for transit in the city."
Gladstone funds transit services through a specific sales tax. The city said that to pay for the increased KCATA contract, it would have to cut street maintenance by half.
Instead, Gladstone opted for a three-month trial of IRIS at $7,000 per month. Unlike buses, however, the ride app costs money for riders if they're going anywhere other than a transfer point or within Gladstone, which is free.
KCATA did not respond to questions about how much it is charging municipalities for bus and IRIS services.
IRIS also has shorter hours: The vehicles only run from 6 a.m. to 6 p.m., compared to 5 a.m. and midnight for the RideKC buses.
Kansas City Mayor Quinton Lucas said in a recent tweet that "Kansas City taxpayers have subsidized service for years for a number of surrounding communities and is declining to do so further." He argued that IRIS has little to do with KCATA's 400% price increase, which reflects the "actual cost of service for Gladstone without Kansas City subsidy."
On Twitter, North Kansas City Mayor Bryant DeLong revealed that his town is facing similar rate hikes as Gladstone. The city's current contract with KCATA is 45% more expensive per month than it was at the beginning of the year, and could increase more in the future.
KCUR has requested additional comment from North Kansas City, but did not hear back by publication time.
Meanwhile, Kansas City is putting more money into IRIS, which has a budget of $8.9 million for operations and marketing — about 7% of KCATA's $117 million total budget for 2023.
The cost of transit
Kansas City Manager Brian Platt helped launch a similar program as IRIS in his previous job as city manager for Jersey City, New Jersey. Both he and Means see IRIS as a long-term solution for Kansas City.
"You're seeing the companies that do this (microtransit) launch in hundreds of cities around the world." Platt said. "Rather than adding bus routes, which are much more expensive and much less efficient, we're thinking about technology-based solutions that are the future of transit, and this is the direction the industry is going."
Counter to Platt's claims, a 2019 report from TransitCenter — an organization focused on public transportation policy — found that microtransit systems like IRIS are often much less efficient than mass transit.
"Microtransit is incapable of serving the same scale of ridership as fixed-route buses and trains," the report argued.
"Picking people up at their doorstep involves traveling greater distances than operating service along a fixed route, and a microtransit driver in a van or car can carry far fewer people than the operator of a bus or train," the report continued. "For these reasons, microtransit typically costs agencies much, much more to run than an average bus route."
Because of that inefficiency, microtransit programs like LA Metro's Metro Micro have been accused of wasting taxpayer money. In San Francisco's East Bay, the first year of the AC Flex microtransit system saw only half of the riders served compared to the bus line it replaced.
With a fleet of 30, purple IRIS-branded cars (five of which are electrical vehicles), IRIS served 1,048 riders in May. This is only 0.1% of KCATA's total ridership of over 1 million that month.
TransitCenter's director of communications, Hayley Richardson, said in an article for Planning Magazine that microtransit systems might make sense as a replacement for bus services only if the fixed bus route served less than six passengers per hour.
In May, all Kansas City's fixed bus routes averaged more riders than that — including the North Oak and Meadowbrook routes through Gladstone. Starting in September, however, buses will continue to run those routes but no longer stop within Gladstone city limits.
Does IRIS work for riders?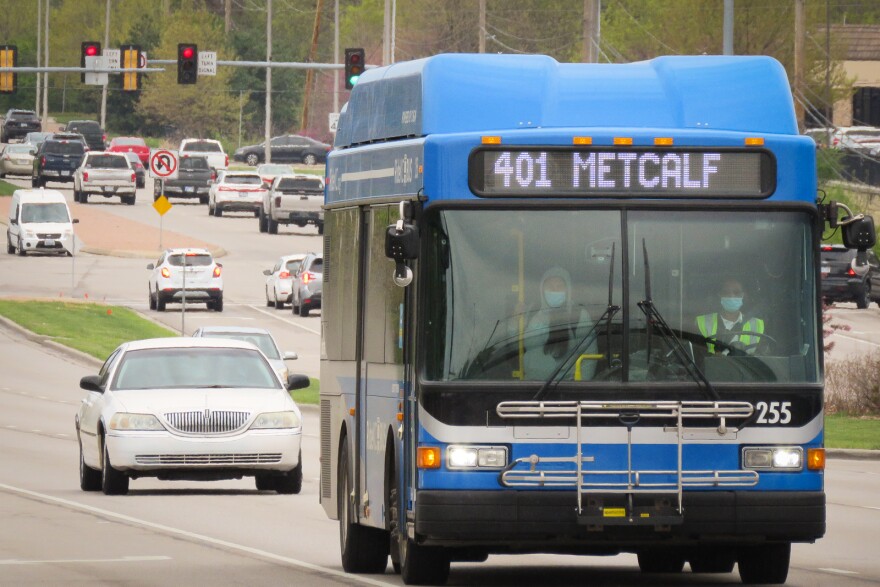 IRIS currently covers an area of 332 square miles, and adding more riders every month. Now KCATA is looking for ways to extend it beyond the borders of Kansas City, Missouri — just like it has with Gladstone.
Bill George, the CEO of zTrip — the company that provides the taxis and drivers for IRIS — said at a recent City Council business session that city representatives from Parkville and Riverside have also expressed interest in joining the program.
Jaz Hays, a Northland resident who grew up riding Kansas City buses and has used IRIS, believes that expansion is not necessarily a good thing.
"I can appreciate the fact that it fills in gaps," Hays said of IRIS, "but the problem is it seems to also be creating new gaps."
Commuting in and out of Gladstone will now cost $8 round-trip for those reliant on public transit, which Hays says could quickly become a financial burden for low-income residents. He also worries that rising costs for bus services will isolate other municipalities in the area, like North Kansas City, where IRIS runs the same hours as Gladstone.
"Our community is so deeply intertwined that if you see a person at a bus stop in Gladstone, the odds are they live in Kansas City," Hays said.
KCATA says it's working on fixing some of the initial complaints about IRIS, including confusion about the app and frustration with stops being too far away.
Means also hinted that KCATA's larger plans may include consolidating some of its alternative transportation services into one system. KCATA has experimented with microtransit before, and it currently runs several programs that act similarly to IRIS. Right now that includes RideKC Freedom On-Demand, which is catered to low-income individuals and people with disabilities, and its flex routes, which pick up and drop off riders within specific zones.
KCATA did not respond to questions about how it plans to further consolidate its services.
According to RideKC's public dashboard, the recently-ended Gladstone-Antioch Flex route was one of the least popular in the bus system: Just 1,009 people used the flex route in May 2023 (an average of just 33 per day). As a result, it was also one of the least financially efficient routes, costing the city about $22 per rider.
Means says the average wait time for an IRIS ride was under six minutes, while current bus lines only make stops in Gladstone every 30-60 minutes.
"Maybe this is an upgrade in public transportation for the city of Gladstone," AJ Farris, KCATA's planning and scheduling manager, told Gladstone City Council on June 12.
For Moore's part, she's optimistic about the embrace of IRIS, which she says will also give residents more travel options east and west — beyond the current north-south bus routes.
"We feel like this is a good option to provide our residents that may be even a better option than currently what we have with ATA," Moore said, "but we will evaluate it and make a decision."
This story was originally published by KCUR 89.3 FM and Missouri Business Alert, fellow members of the Kansas City Media Collective.